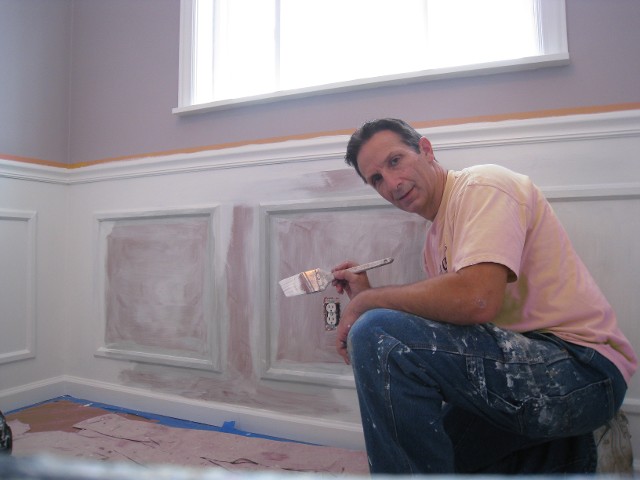 Interior Painting Services
During Painting Process
Renew Your Structure with Interior and Exterior Painting in Staten Island, New York
A new home or business provides the modern quality that many property owners crave. Unless you want to invest in a new structure, you can make the one you already own look better. If you watch home improvement TV shows, you know that painting services can vastly improve your building, so transform your business or home with interior and exterior painting in Staten Island, NY.
You receive the highest quality work despite your job's size when you hire AC Pro Painting and Design. We do painting for residential and commercial customers who want to give their properties a fresh and modern look. Our crew uses premium paint that creates a smooth finish and comes in colors that complement the existing architecture, fixtures, furniture, and other features. We can also give your interior and exterior walls a distinctive appearance with decorative painting. To correct wall damage, we offer drywall installation as well.
You may want to create an elegant look for your office or home. If so, we suggest custom finishes that simulate various textures, including cement, marble, and wood. We can make your interior walls look like they belong in a palace when we supplement them with crown molding installation. Our painters focus on doing work that adds style and value to your home or business. Reach out to us to discuss your decorating ideas.
Our Contractor Services Include:
• Interior Painting
• Exterior Painting
• Deck Staining
• Pressure Washing
• Shadow Boxes
• Crown Molding Installation
• Wall Skimming
• Cabinet Painting
• Drywall Taping & Repair
• Chair Rails
• Wallpaper Removal & Installation
• Door & Molding Staining (Such as Polyurethane)
• Doors
Specialties:
• Decorative Painting
• Custom Finishes
• Faux Finishing
• Venetian Plaster
• Murals - Trompe L'oeil
• Stenciling
• Glazing
• Marbleizing